Last updated on June 16, 2019 8:48pm EDT
Des Moines, WASHINGTON – June 15, 2019
For the past year, all across America child rapists and criminals have been posing as educators at public libraries to target liberal parents' children with LGBT propaganda. This has been observed primarily in major cities from coast to coast including states such as New York, Texas and Washington.
Our lead investigative reporter, Kris Blough, went out to the Des Moines Public Library to both confront the supporters of Drag Queen Story time and join protesters against this child abuse. The protest was to bring awareness of the upcoming event and to put pressure on the library to cancel it.
The event post on BiblioCommons describes it as a "Family Program, All Ages Welcome". The event is currently scheduled for Monday June 17th at 11 a.m. We encourage everyone to contact the library to voice your concerns and to show up in protest.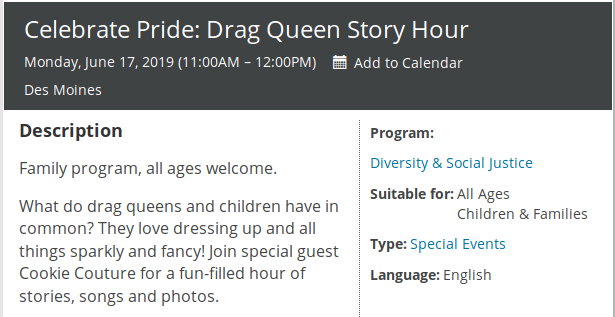 These events are being organized nationwide by Radar Productions and are occurring more frequently nationwide. Recent research has uncovered a shocking number of these being organized. In some cases the names of the events are simply being called "Story Time" to hide their nefarious purposes, yet inside sources have still been able to provide leads as to when/where these are going on.
On the same day, Saturday June 15, 2019 another Drag Queen Story Time event was found in Leander, Texas. In a bizarre escalation, Antifa announced plans to protect the Leander, TX event from protesters, and threatened to bring guns. Owen Shroyer reported live from the scene:
On June 5th, 2019 a Drag Queen Story Time event was documented in close detail, as Owen Shroyer went undercover and filmed the indoctrination of children at the Austin, Texas Public Library:
There's been several more documented occurrences of these attempts to corrupt children inside these major cities, too many to list here. It's time for people to stand up to this corruption and join patriot-led protests in opposition to these individuals.
Stay tuned for notifications of these events as we continue to organize against this corruption in our public libraries.
This article has been updated to reflect this is an upcoming event, and the protest occurred in advance to bring awareness.